*Disclosure: This is a sponsored post for Emerald®, however my nuttiness about Emerald® is real*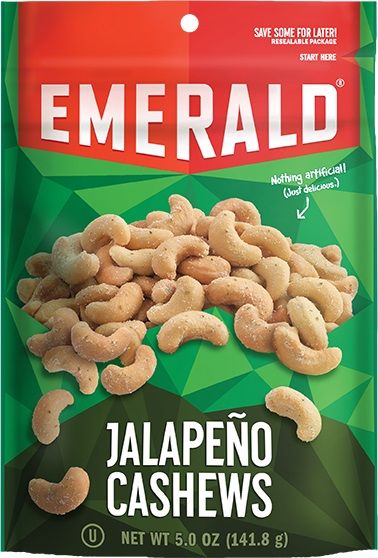 Snacking is an important part of our day everyday, especially when you have kids. When our five year old gets home from school every day he is always reaching for something to eat. Emerald® snack packs are a convenient snack that our independent five year old can easily get himself. Since snack time is happy time in our house, we like to make games and have fun. Our favorite Emerald snack time game is Guess The Nut!
Here's how to play:
Open each Emerald nut bag and pour a 1/4 cup of nuts into a serving bowl
Mix together.
On each turn, the person will take one nut out of the bowl and predict the flavor. Next, pass the nut to the person on your right, who will eat the nut and tell you if your guess was correct.
Once the bowl is empty the person who guesses the most nut flavors correctly is the winner!
Playing Guess the Nut is the perfect game with Emerald, since they have so many flavors! At Emerald, they're reinventing nuts to create an outrageous snacking adventure with four bold new cashew flavors: Dill Pickle, Jalapeno, Sriracha and Salt & Pepper. Each variety combines the buttery crunch of Emerald Cashews with a robust new flavor profile:
Dill Pickle: Crisp and tangy, with a touch of garlic seasoning
Jalapeno: Zesty, with the spicy bite of a jalapeno pepper
Sriracha: Spicy red chili and garlic with a hint of vinegar
Salt and Pepper: A classic combination of salt and fresh ground pepper
How do they get these huge flavors into such a little nut? Simple, Emerald Nuts believes in big, bold flavors. Their Nutologists work tirelessly to bring you the yummiest combinations to wow your taste buds time after time.
Keep up with the latest from Emerald Nuts! Visit their website http://bit.ly/1SRanzV, Like them on Facebook and follow  on Twitter and Instagram
As a family that is always on the go, snacking is an important part of our day. Emerald's variety gives everyone in our family an opportunity to have their own favorite cashew! I love the Salt and Pepper, my husband is a fan of the Jalapeno, and my boys are crazy about the Sriracha. Having favorite flavors always comes in handy, especially when playing Guess The Nut!

How do you make snacking fun?
This is a sponsored post written by me on behalf of Emerald®.